Explore Tulsa's Art Deco District at Our One-Day Writer's Retreat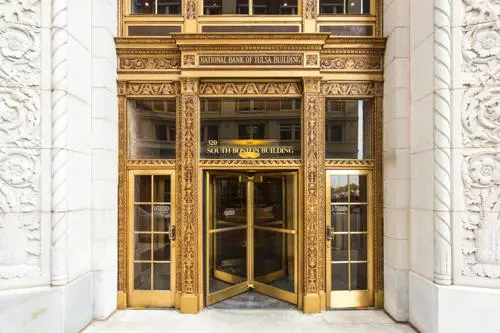 Craft Your Story in a Historic Oasis
Join us for a day of focused writing and creative inspiration in Tulsa's Art Deco District. Our one-day writer's retreat, hosted by a seasoned writing coach, offers valuable insights, dedicated writing time, and connections with fellow writers in a historic setting.
One-Day Retreat Highlights
1. Historic Ambiance: Immerse yourself in the timeless beauty of Tulsa's Art Deco District. Our retreat takes place in an elegant office space showcasing Art Deco architecture. Find inspiration in ornate details and historical charm.
2. Dedicated Writing Time: Maximize your day with multiple focused writing sessions. Dive into your project without distractions, whether it's a novel, memoir, or short story.
3. Personalized Coaching: Benefit from one-on-one coaching tailored to your goals and challenges. Get feedback, discuss strategies, and improve your craft.
4. Creative Exercises: Ignite your imagination with carefully crafted creative writing exercises. Break through blocks and explore new ideas.
5. Peer Sharing and Feedback: Connect with writers in a supportive environment. Share work, exchange ideas, and receive constructive feedback.
6. Lunch Break: Enjoy a leisurely lunch at a nearby restaurant. Network, discuss experiences, and exchange inspiration.
One-Day Retreat: $99 per person
*Promotion—50% Discount with Code Cityscape50
Registration and Details:
Registration: Secure your spot with our easy online form.
Payment: Full payment via major credit cards or PayPal.
Cancellation Policy: Refunds available per policy.
Transfers: Transfer your registration with notice.
Confirmation: Receive an email with essential details.
Frequency: 2nd Friday of the Month
Schedule: 9:00 AM to 5:00 PM with breaks. [extended hours available upon request with notice]
What to Bring: Your writing tools and eagerness.
Attire: Dress comfortably for a day of creativity.
Join us for this enriching one-day writer's retreat in Tulsa's Art Deco District. Immerse yourself in the historic ambiance, receive personalized coaching, and connect with fellow writers as you invest in your writing journey. Secure your spot today to enhance your writing skills and enjoy a day dedicated to your craft
Questions about getting started? Drop us a line to find out more!
Schedule a free 15-minute consultation meeting to see if we are a good fit and learn about our services.